Alternativas vía oral a la zidovudina endovenosa durante el trabajo de parto para la prevención de la transmisión vertical del VIH
Palabras clave:
Zidovudina oral, Transmisión vertical, Trabajo de parto, HIV
Resumen
El uso de Zidovudina EndoVenosa (AZT EV) durante el trabajo de parto en la prevención de la transmisión vertical del VIH está ampliamente documentado, con indicaciones específicas sobre los casos en los que se debe administrar. 
En varios países el AZT EV no está disponible. En nuestro país en los últimos años ha habido faltantes recurrentes en el mercado y por periodos prolongados. Esta situación de escasez nos llevó a buscar y analizar un régimen alternativo de dosificación vía oral intraparto que proporcione una protección similar a la obtenida con el AZT EV con el fin de realizar un protocolo de emergencia para casos de faltantes.  Se realizó una búsqueda bibliográfica sistemática de los últimos 25 años en Medline-PubMed y Cochrane. Estrategia de búsqueda: palabras clave: Zidovudine, Oral, HIV, Intrapartum, Labor; y se consultaron las Guías de Práctica Clínica (GPC) de países de Latinoamérica (LATAM). Se encontraron un total de 373 artículos y 16 GPC. En la primera selección por título y/o resumen se eliminaron 349. Luego de aplicar los criterios de inclusión/exclusión fueron seleccionados 6 artículos: 5 ensayos clínicos y 1 revisión sistemática con meta-análisis.  Se encontraron alternativas vía oral para reemplazar el faltante de AZT EV, en distintos regímenes posológicos, adoptadas por la mayoría de los países de LATAM y la OPS-OMS. Es necesario incluir alguna alternativa en nuestras recomendaciones nacionales para que ante el faltante de AZT EV este se pueda reemplazar por la administración vía oral y así evitar que queden pacientes sin medicar.
Citas
OPS. Clinical Guideline for the Elimination of Mother-to-Child Transmission of HIV and Congenital Syphilis in Latin America and the Caribbean. Montevideo: OPS, 2011. 99 p. https://www3.paho.org/clap/index.php?option=com_docman&view=document&layout=default&alias=201-clinical-guideline-for-the-elimination-of-mother-to-child-transmission-of-hiv-and-congenital-syphilis-in-latin-america-and-the-caribbean-3&category_slug=recursos-estrategicos-mortalidad-materna-neonatal&Itemid=219&lang=es
Briand N, Warszanski J, et al. Is intrapartum intravenous zidovudine for prevention of mother-to-child HIV-1 transmission still useful in the combination antiretroviral therapy era? Clin Infect Dis. 2013, 57: 903-914.
Sociedad Argentina de Infectología. Actualización 2021 del VII Consenso Argentino de Terapia Antirretroviral. Buenos Aires: SADI, 2021. 226 p. https://www.sadi.org.ar/publicaciones/itemlist/filter?searchword3%5B%5D=2021&moduleId=335&Itemid=342
Connor EM, Sperling RS, Gelber R, Kiselev P, Scott G, O'Sullivan MJ, VanDyke R, Bey M, Shearer W, Jacobson RL. Reduction of maternal-infant transmission of human immunodeficiency virus type 1 with zidovudine treatment. Pediatric AIDS Clinical Trials Group Protocol 076 Study Group. N Engl J Med. 1994; 331(18): 1173–1180. doi: 10.1056/NEJM199411033311801.
Bhana N, Ormrod D, Perry CM, Figgitt DP. Zidovudine: a review of its use in the management of vertically-acquired pediatric HIV infection. Paediatric Drugs. 2002; 4(8):515–553. doi: 10.2165/00128072-200204080-00004.
Shaffer N, Chuachoowong R, Mock PA, Bhadrakom C, Siriwasin W, Young NL, Chotpitayasunondh T, Chearskul S, Roongpisuthipong A, Chinayon P, Karon J, Mastro TD, Simonds RJ. Short-course zidovudine for perinatal HIV-1 transmission in Bangkok, Thailand: a randomised controlled trial. Bangkok Collaborative Perinatal HIV Transmission Study Group. Lancet (London, England). 1999; 353(9155):773–780. doi: 10.1016/s0140-6736(98)10411-7.
Bhadrakom C, Simonds R J, Mei JV, Asavapiriyanont S, Sangtaweesin V, Vanprapar N, Moore KH, Young NL, Hannon WH, Mastro TD, Shaffer N. Oral zidovudine during labor to prevent perinatal HIV transmission, Bangkok: tolerance and zidovudine concentration in cord blood. Bangkok Collaborative Perinatal HIV Transmission Study Group. AIDS (London, England). 2000; 14(5):509–516. doi: 10.1097/00002030-200003310-00006.
Jackson JB, Musoke P, Fleming T, Guay LA, Bagenda D, Allen M, Nakabiito C, Sherman J, Bakaki P, Owor M, Ducar C, Deseyve M, Mwatha A, Emel L, Duefield C, Mirochnick M, Fowler MG, Mofenson L, Miotti P, Gigliotti M, Mmiro F. Intrapartum and neonatal single-dose nevirapine compared with zidovudine for prevention of mother-to-child transmission of HIV-1 in Kampala, Uganda: 18-month follow-up of the HIVNET 012 randomised trial. Lancet (London, England). 2003; 362(9387):859–868. doi: 10.1016/S0140-6736(03)14341-3.
Mirochnick M, Rodman JH, Robbins BL, Fridland A, Gandía J, Hitti J, Bardeguez A, Rathore MH, Gonzalez Garcia A, Cababasay M, Samson P, Mofenson L, Bryson YJ, Dorenbaum A. Pharmacokinetics of oral zidovudine administered during labour: a preliminary study. HIV Med. 2007; 8(7):451–456. doi: 10.1111/j.1468-1293.2007.00495.x
Fauchet F, Treluyer JM, Valade E, Benaboud S, Pannier E, Firtion G, Foissac F, Bouazza N, Urien S, Hirt D. Maternal and fetal zidovudine pharmacokinetics during pregnancy and labour: too high dose infused at labour? Br J Clin Pharmacol. 2014; 78(6):1387–1396. doi: 10.1111/bcp.12459.
Veroniki AA, Antony J, Straus SE, Ashoor HM, Finkelstein Y, Khan PA, Ghassemi M, Blondal E, Ivory JD, Hutton B, Gough K, Hemmelgarn BR, Lillie E, Vafaei A, Tricco AC. Comparative safety and effectiveness of perinatal antiretroviral therapies for HIV-infected women and their children: Systematic review and network meta-analysis including different study designs. PLoS One. 2018; 13(6)e0198447. doi: 10.1371/journal.pone.0198447.
Brocklehurst P, Volmink J. Antiretrovirals for reducing the risk of mother-to-child transmission of HIV infection. The Cochrane Database of Systematic Reviews. 2002; (1):CD003510. doi: 10.1002/14651858.CD003510.
Kinai E, Kato S, Hosokawa S, Sadatsuki M, Gatanaga H, Kikuchi Y, Lam NV, Ha D, Kinh NV, Liem NT, Oka S. High Plasma Concentrations of Zidovudine (AZT) Do Not Parallel Intracellular Concentrations of AZT-Triphosphates in Infants During Prevention of Mother-to-Child HIV-1 Transmission. J Acquir Immune Defic Syndr. 2016; 72(3): 246–253. doi: 10.1097/QAI.0000000000000950.
Barry MG, Khoo SH, Veal GJ, Hoggard PG, Gibbons SE, Wilkins EG, Williams O, Breckenridge AM, Back DJ. The effect of zidovudine dose on the formation of intracellular phosphorylated metabolites. AIDS (London, England). 1996; 10(12):1361–1367. doi: 10.1097/00002030-199610000-00008.
Rodman JH, Flynn PM, Robbins B, Jimenez E, Bardeguez AD, Rodriguez JF, Blanchard S, Fridland A. Systemic pharmacokinetics and cellular pharmacology of zidovudine in human immunodeficiency virus type 1-infected women and newborn infants. J Infect Dis. 1999; 180(6):1844–1850. doi: 10.1086/315152.
Lolekha R, Chokephaibulkit K, Phanuphak N, Chaithongwongwatthana S, Kiertiburanakul S, Chetchotisakd P, Boonsuk S. Thai national prevention of mother-to-child transmission (PMTCT) Guidelines Working Group. Thai national guidelines for the prevention of mother-to-child transmission of human immunodeficiency virus 2017. Asian Biomed (Res Rev News). 2017; 11(2):145–159. doi: 10.5372/1905-7415.1102.547 https://clinicalinfo.hiv.gov/sites/default/fils/guidelines/documents/Perinatal_GL.pdf
Prise en charge Médicale des personnes vivant avec le VIH. Recommandations du group d'experts. Désir d´enfant et grossesse (mai 2018) Paris: Ministere des affaires sociales et de la santé, 2018.
Rimawi BH, Haddad L, Badell ML, Chakraborty R. Management of HIV Infection during Pregnancy in the United States: Updated Evidence-Based Recommendations and Future Potential Practices. Infect Dis Obstet Gynecol. 2016, 7594306. doi: 10.1155/2016/7594306.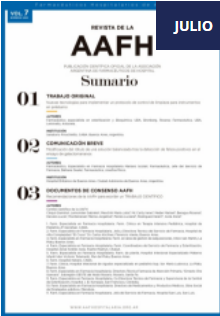 Cómo citar
Lucero, M., Lema, C., Giunta, L., & Pisapia, J. (2023). Alternativas vía oral a la zidovudina endovenosa durante el trabajo de parto para la prevención de la transmisión vertical del VIH. Revista De La AAFH, 9(1), 13–27. Recuperado a partir de https://revista.aafhospitalaria.org.ar/index.php/RAAFH/article/view/39